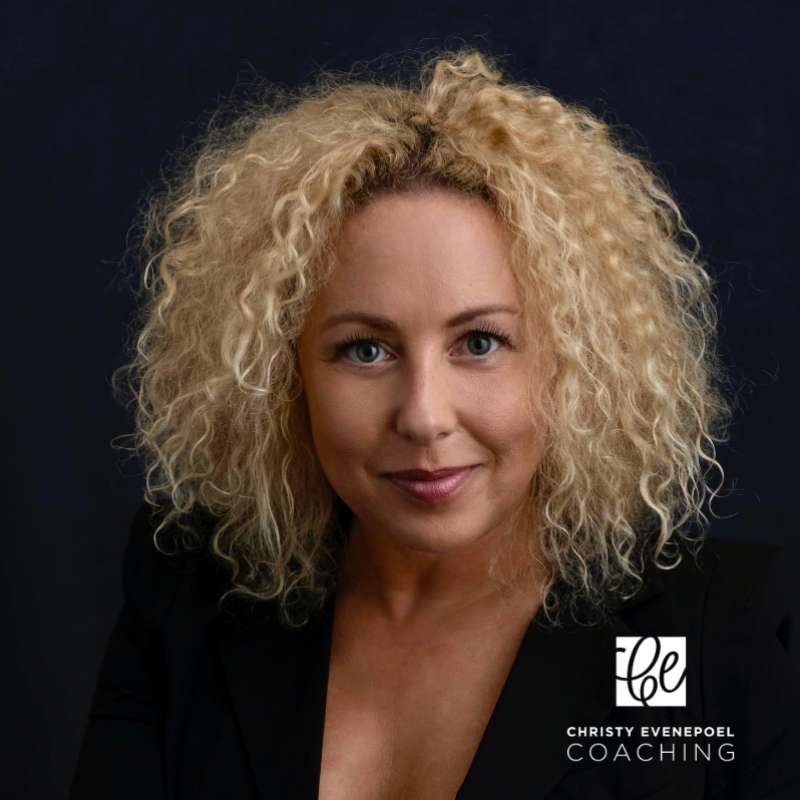 BE THE BEST VERSION OF YOURSELF.
Contact details
Address
120 Avenue Molière
1190 Bruxelles (Belgium)
Christy Evenepoel
ACC
Associate Certified Coach
(EN)
Christy Evenepoel is a Certified Life Coach, an Artist Coach, and a Public performance Expert with an holistic approach to enable a true transformation. Her vibrant energy and her empowering expertise help her clients create their happiest reality.
​She first studied acting at the Royal Conservatory in Bruxelles (Belgium). At the age of 18 years old, she moved to New York City (US) to work and train as a performer through Actors Studio and Broadway Dance Center.
While in the United States, she performed as an actress and singer in movies and theaters. She plays both in small theaters and at well-known venues, such as Broadway. She became an Artist coach & Director in 2005.
Christy always a sense of deeper purpose and it was in New York that she truly began her own spiritual journey. She studied the Holy Books, the greatest thinkers, spiritual activists as well as the teaching of Paramahansa Yogananda and Krishnamurti, among others.
And her desire to contribute to a greater good, lead her to become a counselor for Recovering addicts with a 12 step recovery program for anyone struggling with hurt, pain or addiction of any kind in Manhattan and Harlem. She then created her own meditation practice with daily rituals to recharge Mind/Body & Soul.
She is also an inspirational speaker, in many gatherings & conferences in the United States and Europe.
After more than 15 years of experience working for the Entertainment Industry ; she decided to go deeper in her Coaching practice helping individuals with their personal goals.
She finished a Master in Advanced Life Coaching, acquiring theoretical knowledge and learning from the most experienced teachers, coaches, and mentors across the globe.
She is part of ICF (International Coach Federation), where she set and demonstrate the highest standards of excellence for professional coaching quality, qualification and competence.
---
(FR)
Christy Evenepoel est Coach de vie certifié une boosteuse de confiance en soi et experte en performances scéniques depuis 20 ans. Dans les sessions de Coaching elle donne une approche holistique pour activer une réelle transformation en profondeur. Son énergie vibrante et ses compétences stimulantes aident ses clients à créer leurs réalités et leurs bonheurs.
Après des études d'Art Dramatique au Conservatoire Royal de Bruxelles, Christy déménage à New York à l'âge de 18 ans pour y travailler en tant que comédienne et y suivre les prestigieuses formations d'Actors Studio et Broadway Dance Center. Elle a joué en tant qu'actrice et chanteuse dans des films et des pièces de théâtre, aussi bien dans de petits théâtres que dans dans les lieux bien connus, tels que Broadway. Elle est devenue coach et directrice artistique en 2005.
​Christy a toujours eu le sens d'un objectif plus profond et c'est à New York qu'elle a vraiment commencé son propre voyage spirituel.
Elle a étudié les Livres Saints, les plus grands penseurs, les activistes spirituels ainsi que l'enseignement de Paramahansa Yogananda et Krishnamurti, entre autres.
Son désir de contribuer à un plus grand bien l'a amenée à devenir conseillère addictologue pour CR, aidant toute personne aux prises avec des blessures, des douleurs ou une dépendance de quelque nature que ce soit avec un programme de rétablissement en 12 étapes pour toute personne aux prises avec des blessures, des douleurs ou une dépendance de quelque nature que ce soit, à Manhattan et à Harlem.
Inspirée par toutes ces expériences enrichissantes, elle a donné des conférences sur le thème de « être le créateur de sa propre vie » à travers les États-Unis et l'Europe. Elle pratique et enseigne la méditation pour recharger son corps et son esprit quotidiennement (Mind/Body & Soul)
Après une longue expérience dans le coaching d'artistes et la création artistique de multiples évènements, Christy a décidée d'ouvrir ses compétences à toutes personnes en les aidant à atteindre leurs objectifs personnels. Pour cette raison, elle a terminé un Master en Advanced Life Coaching, dispensés par des coachs et mentors du monde entier.
Elle fait partie de ICF (International Coach Federation), où elle démontre les normes les plus élevées pour la qualité, la qualification et la compétence du coaching professionnel.
Coaching methods
Cyber Coaching
Face to Face
Telephone
Workshop / Seminar
Specialties
Corporate Coaching
Small Business Coaching
Personal Coaching = Life Coaching
Career Coaching
Speakers Resource
Supervision
Mentor Coaching
SOLIDARITY COVID-19
Provinces
Brussels
Antwerp
Flemish Brabant
Limburg
East Flanders
West Flanders
Walloon Brabant
Hainaut
Liège
Luxembourg
Namur
Spoken languages